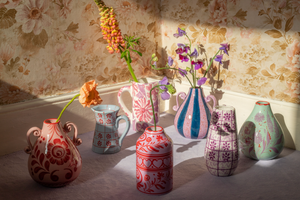 Shipping
We ship worldwide. All our pieces ship withins 5-7 business days of your order. Shipping times are additional to the above processing time of 5-7business days. There are no tracking numbers available unless you select and pay for the Tracking or Courier option at checkout. If you require a tracking number, please purchase during the checkout stage of your order by selecting Express shipping.
All orders are shipped from the UK.
We use Royal Mail UK as a third party shipping company therefore we can be held liable for lost or stolen orders during transit.
We recommend to purchase Express shipping at checkout to insure your order in case of lost or stolen parcel. Orders sent under Standard shipping can not claim refund in case of lost or stolen parcel.
We can not be held liable for delays in the postal system due to unforeseen circumstances or issues that are out of our control, i.e. Coronovirus, Brexit, strikes, etc.
We can not be held liable for lost/ returned orders due to wrong or incomplete address provided. Any order not received due to the above will not be resent or refunded.
We can not be held liable for orders lost or returned due to delivery unability (i.e. no one was home to accept the parcel).
Orders not received: please reach us within 14 days of purchase if you have not received your order so we can investigate. Please bear in mind Royal Mail UK usually keeps their tracking records for 90 days. Therefore we will not be able to investigate past that delay and will consider the order as delivered. No claim can be opened past that delay. No refund will be processed.
International shipments may be subject to import duties and taxes once your order reaches your country. Customs only hold parcels for between 3-5 days for payment of fees/duties. Please check your inbox including your spam/junk folders for any customs related emails. In some countries Customs may also call if you cannot be contacted by email. See below for more details on Customs.
Orders containing made-to-order items:
If one of your item is on pre-order, we´ll wait for it to send your whole order. We recommend you place a separate order if you wish your item(s) in stock to arrive as soon as the order is being placed.
We can not be held liable for delayed orders to arrive after events (birthday gitfs, Christmas, etc...).
Returns
We hope you love your pieces for years to come. However, if you do wish to return any items please see our returns policy below:– all items can be refunded within 14 days of your order being dispatched.– we do ask that all items are returned to us in perfect condition– we recommend that you send any returns using a track-able postal service.
Unfortunately, we won't be able to give a refund if returned items get lost in the post with no proof of postage.– we can only refund return postal costs if the item is faulty. If this is the case, please obtain proof of postage in order for us to refund this cost.
Cancellation of an order must be made in writing to the below email address within 14 days of receiving your items. Any customised items are non refundable. Return costs for shipping are the customers responsibility. Returns may be liable for a restocking fee and any fees that are charged to Vaisselle by customs, agents, couriers, etc will be deductible from your order total once returned to us.
Our initial shipping fee will be deducted from the order total if the item is not damaged/defective. Please note that it may take up to 14 days to process, once your item arrives back with us. We cannot accept returns unless we have been contacted beforehand and the return has been confirmed/ agreed by both parties.
Any returns received that we are not contacted for and confirmed will not be refunded.
If we are not contacted within that period, your items may no longer be valid for a refund. Any refund that may be available will have all costs deducted for the returns process including a restocking/handling fee of the original order total.
Please contact us at info@vaisselleboutique.com