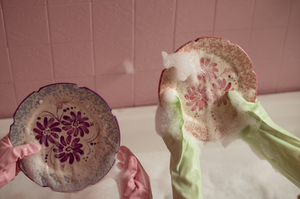 Love & Care
Our white clay-based glazed ceramics are all handmade and hand painted, so each piece may vary in their design or colour. You'll probably notice some marks, variations in the tones, shapes which is what make them beautiful and truly Vaisselle. They're all unique and unperfected in their own way!
Ceramic is a natural porous material. Contrary to china or porcelain, ceramic may absorb humidity therefore we recommend to use a coaster if you place your piece on top of a wooden surface. It also reacts to changes of temperatures, you might notice the creation of lines over time, this is a common process with white clay.

Your ceramics are here to last and it's really easy to take care of them.
When you receive them we advise that you wash your pieces by hand with soap and water, rinse them and allow to gently dry.
They are safe to use in the fridge and microwave. We recommend not to use the dishwasher to keep your pieces intact for many years. No oven or throwing against the wall, they would break!